GNLC Tenkara
GNLC Hightower x GNLC Adorn
Own son of Hightower from the amazing GNLC breeding program of Steve and Sue Rolfing in Montana.  This gentle giant  was 45.5" at withers and 72" at poll at 15 months!!  He combines the best attributes of size, bone, conformation, athletic build, and fiber that we love.  Putting him to work in 2019.
LUA Bravado's Almighty
Hard Rock's Bravado x MSF Mocha's Latte
2014 Dual National Champion HW Male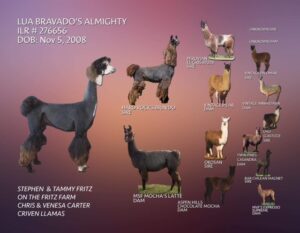 Latest addition to our Stud Barn in 2019.  Proud to add LUA Bravado's Almighty (aka Badger) to our Farm along with our partners Chris and Vanessa Carter.  The Dual National Champion HW Male in 2014, this guy excelled in the show ring, and now he has an opportunity to excel in the breeding ring.  Big, Strong, Correct, with great bone and disposition.  Not to mention the wool coverage and fleece.  Always wanted a Bravado boy from Hard Rock having loved the El Gris line, now we have an amazing male bred by Tami Lash (LUA), from Hard Rock Bravado, crossed with a Mark Smith female.  Combining some of the best from three farms I respect.  Thanks you to all, and to our partners for sharing with us.  Lets have some fun with cria in 2020!!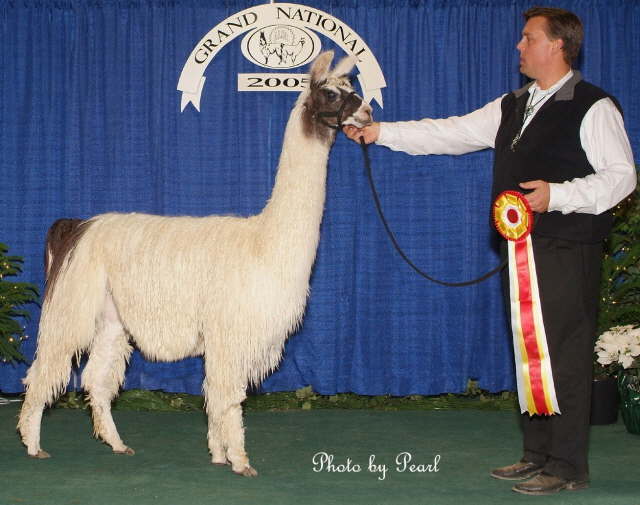 GC Peruvian Expedition
Maximo PC-1 X LaQuita
Outcross Full Peruvian Suri
Sire
Maximo PC-1
Outcross Import Peruvian Suri
Paki
Baraj X Peruvian Patina
Peruvian Herdsire
Full Peruvian son of Baraj by Kay's import Peruvian Cuzco.  This guy brings us some great new bloodline with size (47" at withers), bone, square, and the obvious grey/silver fiber.  A great addition to our full Peruvian lines and we will put him to work with a couple girls this fall after the heat breaks.  Its nice to have a new guy with such an amazing laid back disposition blending into the group with ease.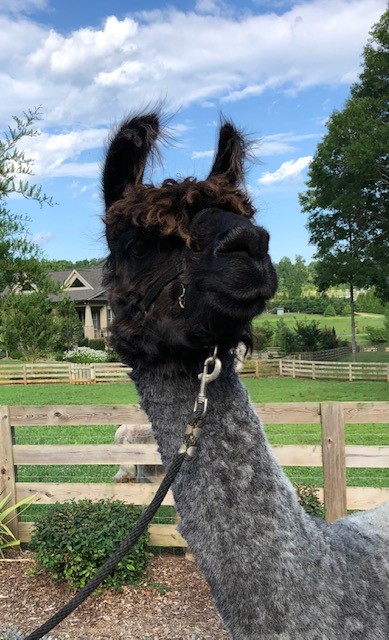 Own Full Peruvian son of Notorius, dam Peruvian Cantuta our Samponero daughter.  Junior Herdsire going to work in 2022.
Own son of CTF Renegade's Vigilante who stands at Rolfing and Tallmon breeding programs.  Not to be outdone the Dam is GNLC Platina from two of Rolfing's best (GNLC Merlin X GNLC Silver Lining).  He will be going to work in 2022.
Own son of GNLC Inspirato (Hightower-Merlin) and dam Ollendick Farms Brinley (MSF Blue Streak X LUA Bravado's Amazing Love).  He will be going to work in 2022.  Co-Owned with Chris and Vanessa Carter.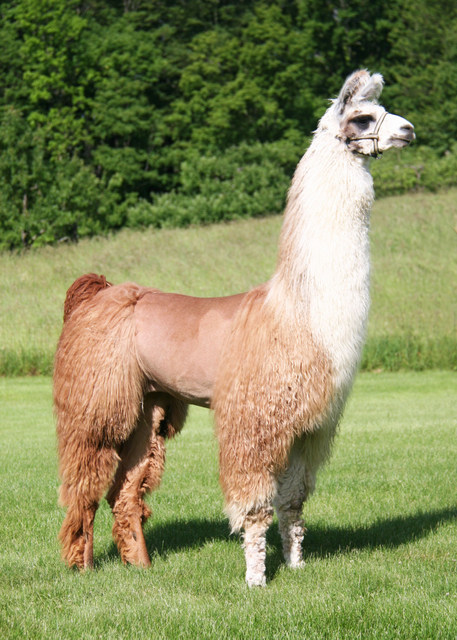 Reference Sire - In Memoria
Notorius
Particular X Peruvian Nortia
Full Peruvian